Welcome to all our visitors and members alike.
Rawlins White Memorial L.O.L. 803, Cardiff, is one of the newest Orange Lodges in the British Isles. It was formed on St. Patrick's Day 2012 and is the first Orange Lodge to sit in South Wales since 1920. The Lodge meets monthly in a church hall, in North Cardiff.
Orangeism once had a strong presence in South Wales, particularly in the Cardiff and Rhonda valley areas – at one point Abelard even had its own District Lodge, comprising five Private Lodges.
Cardiff City L.O.L. 803 met from 1907 until 1920, when it went out of existence and it is this dormant warrant number which the new Lodge has revived. More information on the history of the Orange Institution in the Principality can be seen on our Welsh Orangeism page.
Grand Orange Lodge of England – Cardiff September 2015
The Grand Orange Lodge of England visited for the Annual Sessions, Dinner and Parade in September 2015. The event was hosted by LOL 803 and was a huge success. The highlight of the weekend was a parade through Cardiff city centre – in bright sunshine and well received by the local population it was the first Orange Parade in Cardiff for over 100 years.
For more details, click here.            .
LOL 803 SHOP
See our For Sale page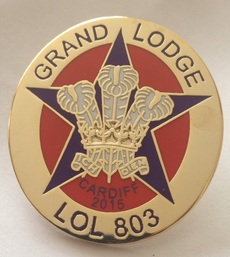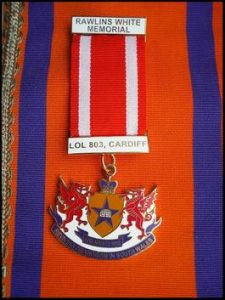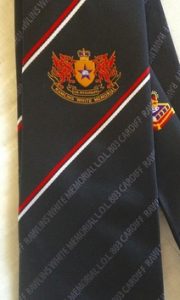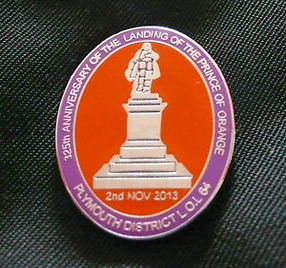 New Orange Museum in Belfast Promotes Cardiff LOL 803
The new £3.6M Museum of Orange Heritage in Belfast has opened it's doors to the general public for the first time. The museum re-tells the story of the Glorious Revolution and the resultant war between William of Orange and James II which culminated with the Dutch king defeating the Jacobean forces at the Battle of the Boyne in 1690.

It goes on to explain the formation of the Orange Order a century later and how the Institution has developed and grown since.

Click on image above for article on Museum and video tour where LOL 803 are mentioned
---
 On 20th February, the Brethren of LOL803 presented an engraved silver salver to Brother James Needs to mark his 95th birthday.  James is a loyal member of LOL 803 and recently transferred in from  his previous Lodge, LOL 217 Seapatrick in Ulster. 
 He is a Veteran of the Normandy D-Day landings and as a native  Welshman, we are delighted to have him in our Lodge.
---
Brixham 2014 – District Parade

Plymouth District Loyal Orange Lodge No. 64 marked the 326th Anniversary of William, Prince of Orange landing in Brixham, on 5th November 1688. The event was held this year on Saturday 1st November and consisted of 3 bands and Orangemen and Orangewomen from all four corners of the United Kingdom. It was a great success and enjoyed by all including the many spectators who lined the route.

Click on photo above for photos

LOL 803 Jewel For Sale

LOL 803 produced a unique jewel to mark the formation of the new Lodge. Individually numbered and limited to a quantity of 250, the jewel reflects the Welsh nature of this Lodge and features our motto 'Reviving Orangeism in South Wales'

Click on photo above for more details